Pneumatic Interval knockers (multi impact)
FKL-mi series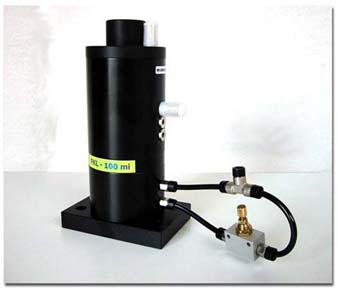 With the interval knocker FKL-100mi, we offer a knocker, which has a self-control integrated inside. This new, patented technology enables a compact construction in a small size.
Using the additionally supplied throttle the impact frequency is adjustable from 1 impact every second minute up to 200 impacts per minute. An additional pneumatic or electric control is not required. Only a connection for compressed air (with filtered air < 5µm) is necessary to install and a valve to switch off the interval knocker.
The impact force is adjustable in 3 levels. The mounting dimensions correspond to the FKL-100si and FKL-100in. Therefore, it is easy to replace it with the new type as needed.
Housing and base plate are made from aluminum. The impact plate (integrated in the base plate) is made of impact-resistant special plastic.
The pneumatic knocker is designed to operate with dry compressed air (lubrication free). If oil-laden compressed air is selected for the operation of the knocking device, this needs to be kept further on, as the basic lubrication of the knocker will be washed out by the oil-containing air.
In the standard version the knockers operate in a temperature range between -20°C up to 80°C.
Type

Operating pressure

bar

Energy / impact

Nm

Impuls / impact

Ns

Weight

kg

Air consumption


l / impact

FKL-100mi

6 - 8

10 / 20 / 40

5 / 7,5 / 10

4,45

0,5 - 1,1
* The technical data were measured with a Kistler 3-axis dynamometer. The tests were performed on a massive laboratory test block and displayed with a Kistler Control Monitor (COMO). We reserve the right to improve, modify or withdraw specifications or products without notice or any further obligation.