High frequency knockers & piston vibrators
FPK-40, FPK-55 and VTP-25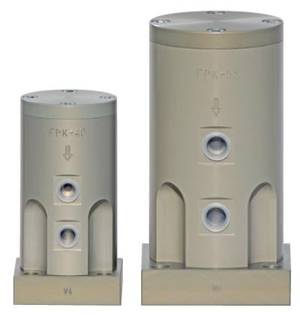 FPK-40 and FPK-55
The FPK high frequency knockers & piston vibrators do not require lubrication with oil or water by compressed air.

They produce a linear vibration with a large range of vibrational frequencies and amplitudes, adjustable via air pressure.
For the optional use, the vibrators will be supplied with a soft and a hard impact plate (in the footplate of the vibrator) as standard. As a result, the sine wave oscillator becomes a soft- or a hard-knocking high-frequency knocker. Thus these devices combine the advantages of high-frequency vibrators for fluidization of powder etc. with the characteristics of knockers - a solution for particularly problematic as well as adherent products. On delivery, the hard impact plate is already mounted.

The housing is made of a hardened and coated die-cast aluminum alloy. It is chemically resistant to ensure the utilization for the food industries as well as for the pharmaceutical & chemical industries.
The relation between weights to force of this units makes the applications of material conveyances particularly efficient. Light weight, compact design and low noise level while operating characterize these vibrators. The FPK- high frequency knockers & piston vibrators are easy to install and designed for a long lifetime with minimal maintenance requirements.

EX-protection versions (Ex II 2 G / D c T6 T85°C) are optionally available.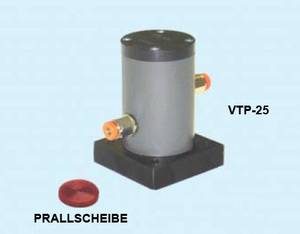 VTP-25
The pneumatic vibrator or high-frequency knocker VTP-25 is a multi-purpose vibrator with dual function.
The VTP-25 can easily converted from a piston vibrator (delivering a sinusoidal oscillation decelerated by air cushion) into a knocker operating with high frequency.

The VTP-25 comes with a mounted impact plate (urethane pad) as a knocker. To use the VTP-25 as a vibrator, just loosen the 4 screws of the base plate and remove the pad. Then tighten the base plate again.

The aluminum body is resistant coated against corrosion. The cover and the base plate are made of anodized aluminum and the piston is made of stainless steel.

VTP-25 also available according to ATEX Ex II 2 G & D Zone 1, 2, 21, 22.